Michelle Narat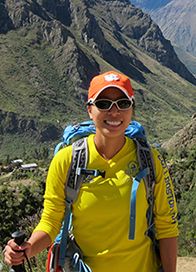 Michelle was born and raised in Kingsport, Tennessee. After studying Industrial Engineering at Clemson University (B.S.) and Purdue University (M.S.), she moved to Houston in 2005 to start a career in the oil & gas industry. At the end of 2007, longing for a career that truly impacted people's lives & well-being, she switched to the healthcare industry, where she currently is employed as a Process Improvement/Organizational Effectiveness expert.
Michelle has always led a healthy & active lifestyle, participating in team sports as a youth and transitioning to endurance sports as an adult. As of 2013, Michelle has completed 16 marathons, 15 half marathons, 3 50k trail races, 1 half-ironman distance triathlon, and 4 BP MS150 cycling events. Her most memorable running milestone was qualifying for and running the Boston Marathon for the first time in 2011 – truly an amazing experience! She has also been actively involved in the local Houston community, serving on the board of the Houston Striders and volunteering for the Houston Half Marathon & Relay held annually in October. Michelle also is a certified Running Coach from the Road Runners Club of America (RRCA) and has coached for Team Challenge (Houston Chapter) and for HARRA's Power in Motion 5K training program. When not running, she enjoys playing tennis, swimming, cycling, and strength training. An avid outdoor enthusiast, Michelle has hiked in the Sierra Nevada, the Colorado & Canadian Rockies, Tibet, China, New Zealand, Tanzania (Mt. Kilimanjaro), and Peru (Inca Trail to Machu Picchu), but some of her favorite (and nostalgic) hikes are in the Appalachian mountains near her hometown.
Michelle truly believes everyone should be entitled to wellness & a healthy lifestyle. In today's complex world, there are many barriers to those wanting to lead healthy lives, such as cost, time, accessibility, etc. Through the Houston Wellness Project, Michelle is motivated to bring structured programs & offerings to anyone and everyone who has the desire to improve their well-being.